Feluda ফেলুদা, or Prodosh Chandra Mitter, প্রদোষ চন্দ্র মিত্র who uses the anglicised name Pradosh C. Mitter) is a fictional private investigator starring in a series of Bengali novels and short stories written by Indian Bengali film director and writer Satyajit Ray.The detective lives at Rajani Sen Road, Ballygunge, Kolkata, West Bengal, India. Feluda first made his appearance in a Bengali children's magazine called Sandesh in 1965, under the editorialship of Satyajit Ray and Subhas Mukhopadhyay. His first adventure was Feludar Goendagiri.
Feluda is always accompanied by his cousin Tapesh (ironically called Topshe by Feluda), and from the sixth story, Sonar Kella (The Golden Fortress), by a popular thriller writer Jatayu (Lalmohon Ganguli).
1. Sonar Kella (Click to see the movie)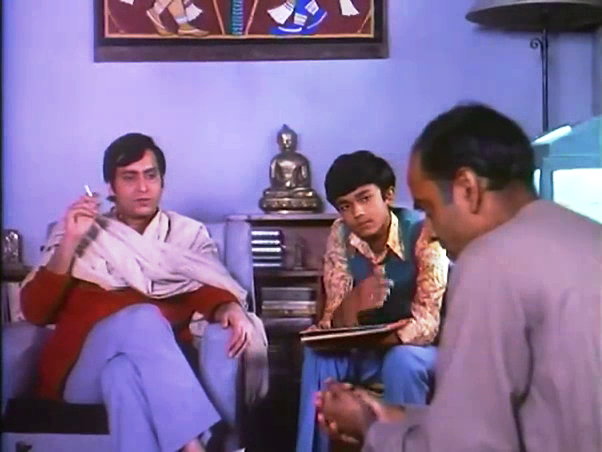 Mukul, a six year old boy, is obsessed with drawing pictures of a golden fortress, and claims to have lived there in a past life. Hoping to better understand the boy's condition, parapsychologist Dr. Hajra accompanies Mukul to search for the fortress. However, a newspaper story alerts a pair of crooks to the possibility of a hidden treasure. The boy's father fears Mukul is in danger, and hires private detective Prodosh "Feluda" Mitra and his cousin Topshe to join Hajra and Mukul in Rajasthan. But the danger may already be closer than they realize.
2. Joy Baba Felunath (Click to see the movie)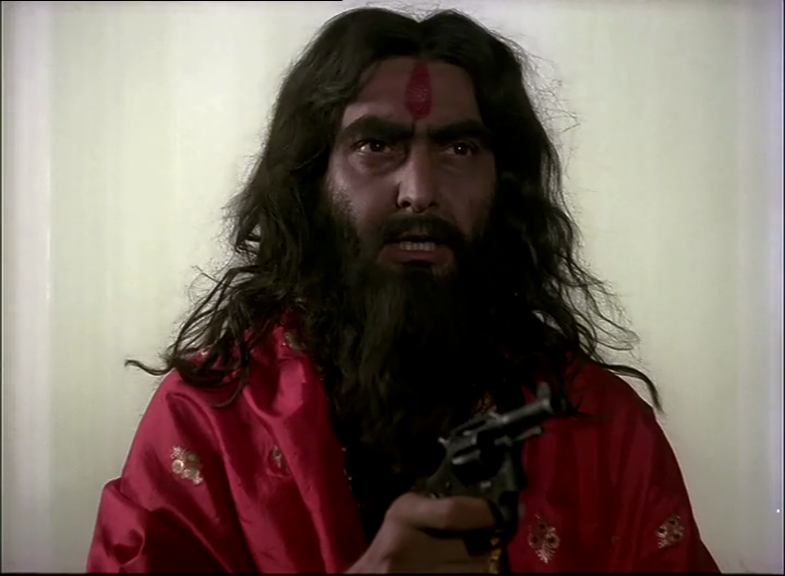 This is the second film about the detective Feluda set in the holy city of Benares, where he (along with his cousin, Topshe and friend, Lalmohan Ganguly) goes for a holiday. But the theft of a priceless deity of Lord Ganesh from a local household forces him to start investigation. Feluda comes in direct confrontation with Maganlal Meghraj, a ruthless trader. Maganlal makes the mild-mannered Lalmohan a knife-thrower's target and threatens Felu to stop investigation. But there are several other suspects as an innocent artisan is brutally murdered, a shady 'holy man' holds court on the banks of the Ganges and an adventure-loving little boy (and his grand-father), brought up on crime thrillers. The climax is a shoot-out on the Ganges, followed by the unraveling of the mystery.
3. Baksha Rahasya (Click to see the movie)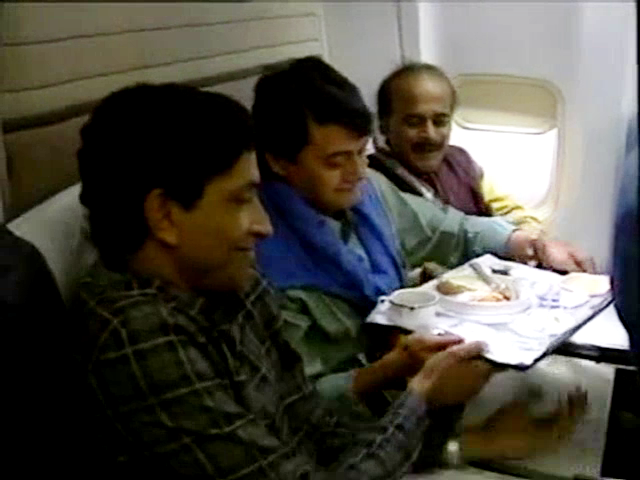 Feluda is approached by an established businessman who claims to have mistakenly swapped his suitcase (bakso) in a train with one belonging to one of his co-passengers and now wants Feluda to put it straight. This simple looking problem lands Feluda, Topshe and Lal Mohan babu in Shimla, and into a realm of deceit and mystery involving a long forgotten diamond and a priceless manuscript about A Bengalee in Lamaland. Besides 'The Trio' we have Dinanath Lahiri, the rich kind-hearted businessman, his nephew, Prabeer Lahiri who is a striving actor but too much obsessed with his only weakness, his voice. The rest three characters in this story are the ones who were with Dinanath Lahiri in his first class compartment, Mr.Pakrashi who is a manuscript collector, Mr. Brijmohan and Mr. Dhameeja who got his suitcase exchanged with Mr. Lahiri. Feluda's investigations finally put the wrong-doers behind bars.
4. Gosaipur Sargaram (Click to see the movie)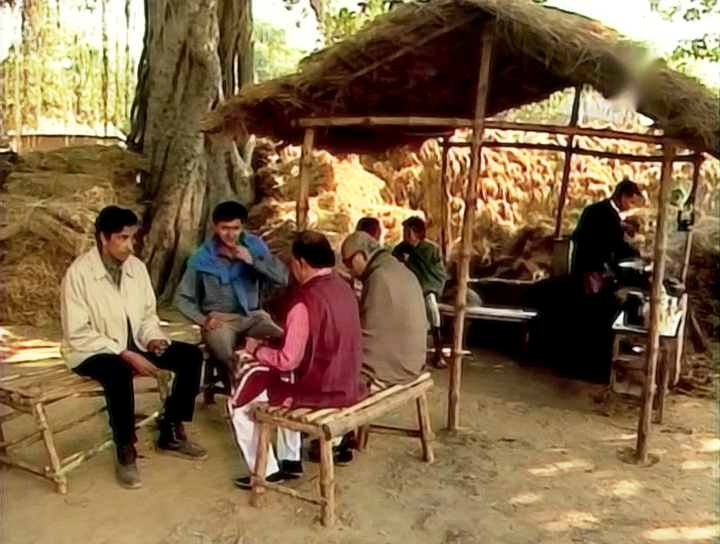 Feluda is called to Gosaipur by Jiban Mallick, the son of the local Zamindar Shyamlal Mallick to investigate a threat of his father's life. Everyone in the village knows that father and the son are at loggerheads. Shyamlal is also an eccentric who eschews anything modern. Then, instead of Syamlal, his son Jiban Mallick is killed and the wealth of Mallick's looted. Oddly though, the dead body of Jiban Mallick vanishes, only to reappear again. Feluda works this out with a mixture of investigating skills and deception.
5. Sheyal Debota Rahasya (Click to see the movie)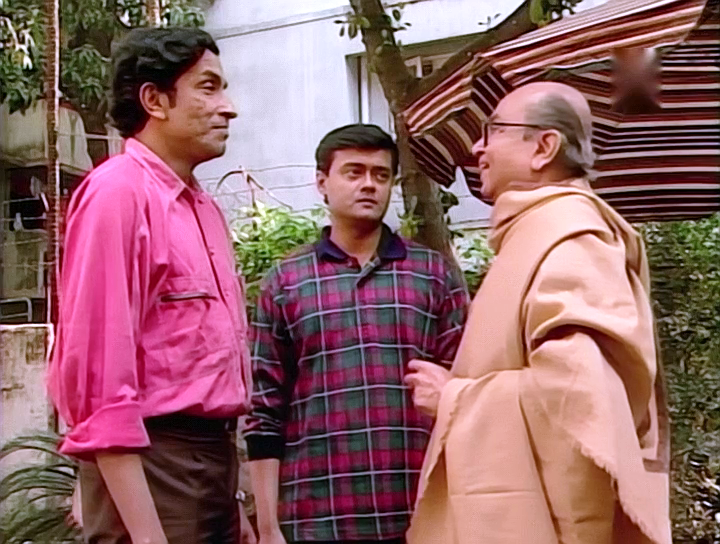 One of the early Feluda stories which is set before Jatayu became part of the team. Feluda is still an amateur sleuth, who is called by one Nilmoni Sanyal a collector of curios. He has been getting some anonymous letters written in hieroglyphics. Sanyal has recently bought a small but valuable statue of Egyptian god Anubis (human body with the head of a jackal) from auction. The next day Sanyal is attacked in his home and the statue is stolen. Feluda gets threats too. Then some Egyptian objects were stolen from another collector, Pratul Gupta. It appears that the thief is a young boy, but no one can locate him. Until Feluda solves the mystery and the surprising identity of the real thief.
6. Bose Pukure Khoon Kharapi (Click to see the movie)
The Acharyas of Bosepukur are an old aristocratic family, but their youngest son Indranarayan is a playwright and music composer for the Jatra company, Bharat Opera. The competitor Jatra comapany Binapani Opera wants to have him in their team also, but fails. Indranarayan is attacked one day and comes to Feluda. The next evening he is murdered. Who is the murderer? Why was he murdered? Feluda investigates.
7. Jato Kando Kathmandu Te (Click to see the movie)
Feluda comes to learn from one Mr. Shome about a Kathmandu based spurious drug racket. Mysteriously, Mr. Shome is murdered immediately after he meets Feluda. Another client, a gentleman named Mr. Batra from Nepal says Feluda, that someone is impersonating him. Feluda travels to Kathmandu with Topshe and Lalmohanbabu. There he meets with one Dr. Dibakar, about whom he already heard from Mr. Shome and his old foe Maganlal Meghraj. It is up to Feluda to uncover the truth about Meghraj and Dr. Dibakar.
8. Jahangirer Swarnamudra (Click to see the movie)
The trio of Feluda, Jatayu and Tapesh has been invited to Panihati to investigate the case of a missing gold coin of Jahangir. The client had a collection of 12 gold coins but on his last birthday, one of them was stolen by one of his most trusted invites. He invites the same group of people this year and asks Feluda to catch the culprit while hiding his true identity.
9. Ghurghutiar Ghatona (Click to see the movie)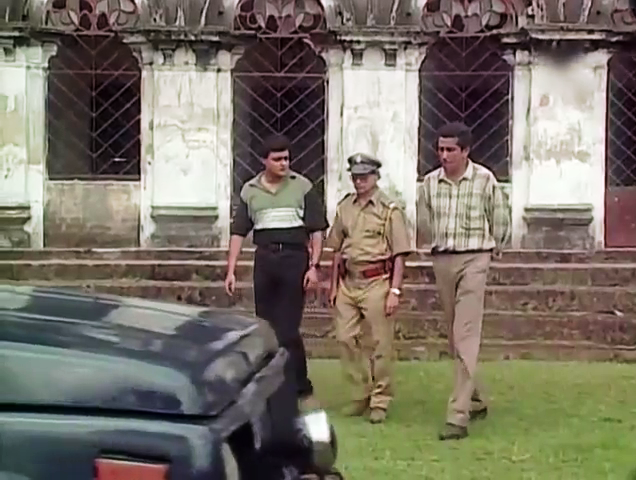 Kalikinkar Mukherjee from Ghurghutiya, Nadia, West Bengal sends a letter to Feluda claiming him to be an admirer of Feluda and invites him to Ghurghutiya. Felua and Topshe go to the place. There in the house Kalikinkar Mukherjee shows them a talking parrot which only knows number combination to unlock a locker. The parrot says— Trinayan, trinayan, ettoo jiro. Now Feluda has to find out the number combination from those unclear words uttered by the parrot. Feluda finds that out, in addition he finds out something more— a murder.
10. Golapi Mukta Rahasya (Click to see the movie)
Joychaand Baral possesses an extremely rare object – a Pink Pearl, which has sought attention of quite a few influential people, notably Maganlal Meghraj, the nemesis of Feluda. Can Feluda stop him before he plans another crime to possess the pearl?
11. Ambar Sen Antardhan Rahasya (Click to see the movie)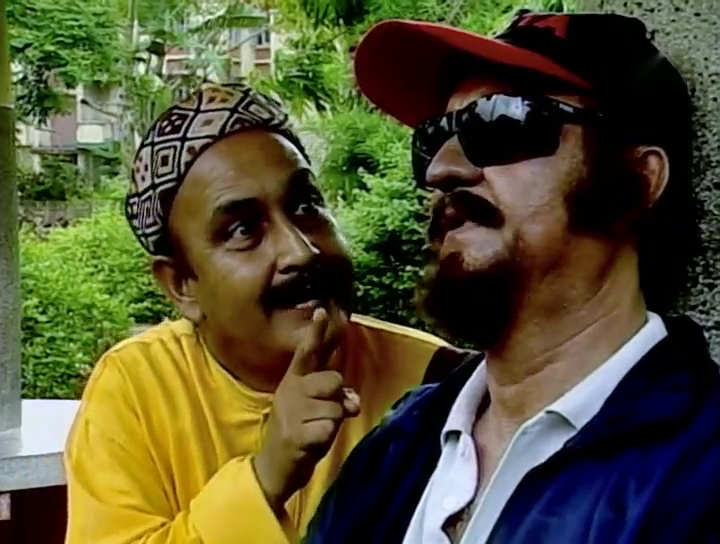 Ambar Sen, a Bengali businessman comes to Feluda and informs him that he has got threatening mail. Later Mr. Sen is kidnapped. Feluda investigates.
12. Dr. Munshir Diary (Click to see the movie)
13. Bombaiyer Bombete (Click to see the movie)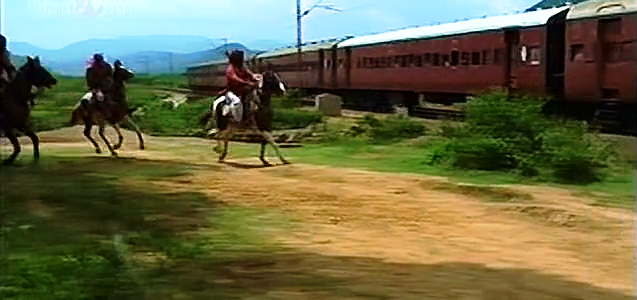 Lalmohan Ganguly, alias Jatayu – a sidekick of Feluda and the writer of Bengali mistery thrillers – gets invited to Bombay (Mumbai) to watch the shooting of a film based on a novel written by him. Once in Bombay, he, along with Feluda and Topshe get embroiled in the underworld kingpins. He is seemed to have transported the Nana Sahib's necklace. But fortunately because of Feluda the real thief is caught and convicted.
14. Kailashe Kelenkari (Click to see the movie)
The story revolves around the blatant smuggling and illegal trading in ancient sculptures across the country. Detective Feluda steps in to solve the crime and nab the culprits. His cousin Topshe, and Lalmohanbabu, the writer of Bengali mistery thrillers who goes by the name of Jatayu, assist him in his work. The story depicts how Feluda uses Topshe and Jatayu as baits in the fifteenth cave of Kailash Temple (Ellora Caves) and manages to catch the main villain of the piece – Mr Rakshit, alias Chattaraj in a series of scenes filled with action and high dramatics.
15. Tintorettor Jishu (Click to see the movie)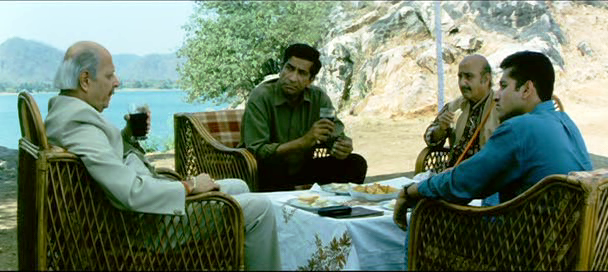 The Niyogi family have a famous painting by the Italian master Tintoretto. However, not everyone is aware of the value of the painting. One of the family members steals it, and international buyers are interested in it. Feluda chases the criminals all the way to Hong Kong. There was a surprise waiting for him there. Eventually, Feluda (with the help of a relative stranger) succeeds in solving the mystery.
16. Gorosthane Sabdhan (Click to see the movie)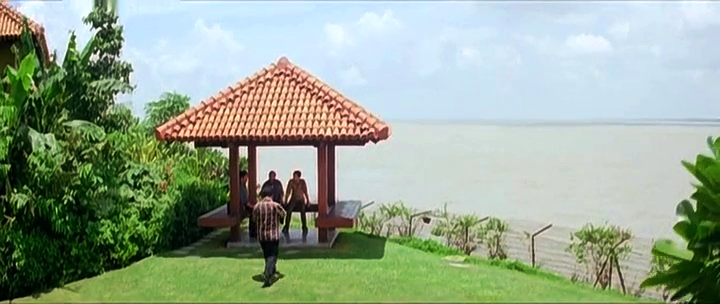 By accident, more than anything else, the three find themselves beside the grave of Thomas Godwin. The grave was dug up by some miscreants for unknown reasons. The rather colorful history of Mr. Godwin makes Feluda curious to know more about the man.From the diary of Thomas' daughter Charlotte, Feluda finds that a very precious clock went to Thomas' grave with him. To his surprise, Feluda finds that another party knows about this clock and they are trying to get it aided by the letter with them. Thanks to the brilliance of the detective and the help of 'Haripodobabu', the chauffeur of Mr. Ganguli, a new introduction in this book, their plot is foiled.
17. Royal Bengal Rahasya (Click to see the movie)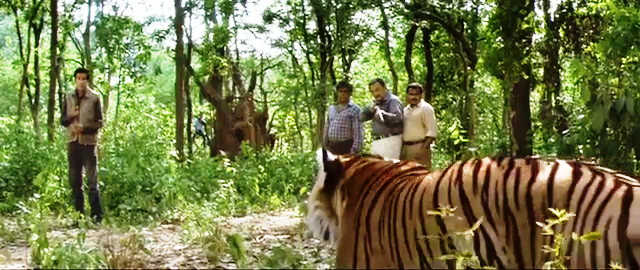 On an invitation by Mahitosh Singha Ray, a wealthy Zamindar, Lalmohon Babu takes Feluda and Topshe at a forest in North Bengal. After few days of their arrival, Mahitosh Singha Ray's assistance, Tarit dies. His deadbody is found in the forest, and police believes he has died due to the tiger's snarl. But later they found a blood-stained sword near his body. Meanwhile, Mahitosh gives Feluda a puzzle to solve. Feluda's amazing intelligence is proved in this part. While Feluda and his companion are on the way to the treasure chest, they finds Tarit's spectacles and later on, his torch, which suggests that Tarit has solved the puzzle much earlier than the others, and was on his way to the treasure chest. Then the mystery thickens as there are many suspects. At the end the man-eating Tiger appears to give the story a new dimension. How does Feluda Solve it?
18. Badshahi Angti (Click to see the movie)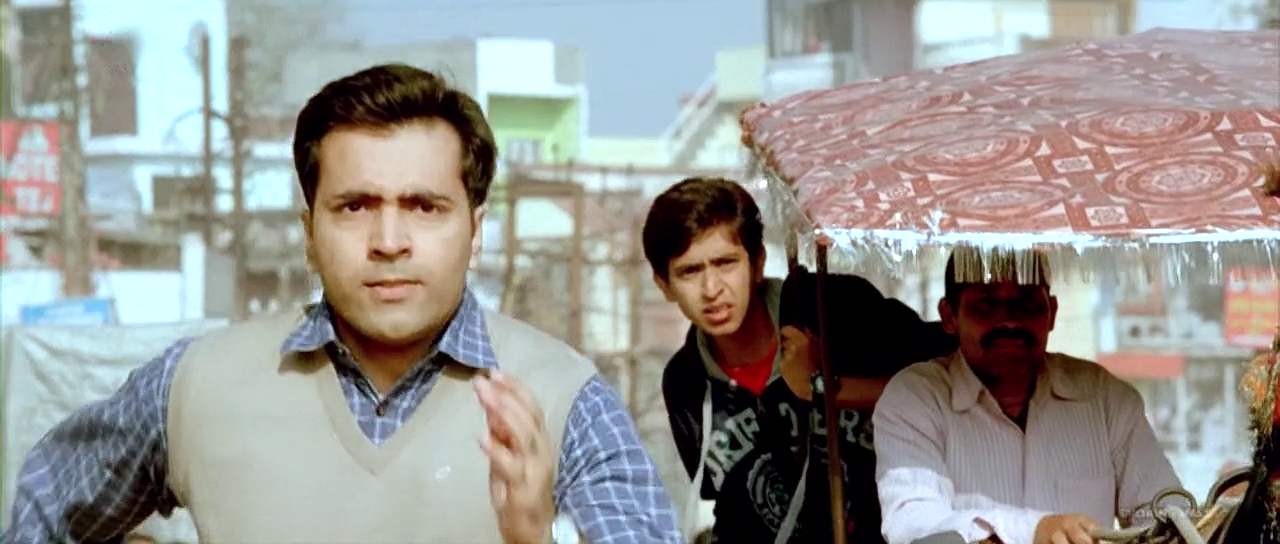 Feluda and his cousin Topshe visit Lucknow with Topshe's father to spend the Puja vacation. They arrive at the house of Dhirendra Kumar Sanyal, a friend of Topshe's father. That evening Dr. Shrivastav also comes to Dhirendra Kumar Sanyal and tells him that last night, a thief tried to steal his 'Ring of Aurangzeb', which was given to him by Pyarilaal Seth. After the incident Dr. Shrivastav is afraid and asks Dhirendra Kumar Sanyal to keep the ring safe. Sanyal agrees and keeps the ring at his home. But the ring goes missing from there. Then Feluda starts investigating, to find the culprit. Meanwhile, Feluda meets an interesting person in the neighbourhood, Mr. Bonobihari Sarkar. Bonobihari babu has ferocious and poisonous creatures like rattlesnake, scorpion and black widow spider in his home. Feluda also meets Mahabir, late Pyarilal's son and a film actor who believes foul play was behind his father's death. They travel to Lakshman Jhula Temple, Haridwar. Next day when they move on to Lakshman Jhula the whole group gets divided into two and Feluda and Topse accompany Bonobiharibabu. The driver of their car was a servant of Bonobiharibabu, Ganesh Guha in disguise of a Punjabi Sardar. They trap Feluda and Topshe in a log house 1.5 miles from Lakshman Jhula as Bonobiharibabu got to know last night from a conversasion between Topshe and Feluda that the ring is with Feluda. Bonobiharibabu try to get the ring from Feluda with the help Ganesh. But their effort is foiled by Feulda.